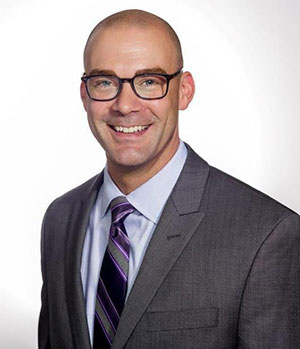 By Chad Taylor
Low inventory and high demand continue to drive prices higher and higher. After several years of recession, most homeowners are excited to finally see appreciation in their home's value. But at what cost?
Appreciation is one thing. High demand and bidding wars are another. Don't get me wrong. As a listing agent I am thrilled to see my seller's receiving multiple offers. In the last 12 months rolling, more than 70 percent of our sellers received multiple offers on their homes. That is incredible! I have never seen a market like this.
On the flip side, my wife, Leah, is our Lead Buyer Specialist, and I see how hard she has to fight to help her clients win in these bidding war situations. In most cases, her clients do win. But in some cases it requires paying well over list price for their future home. We prepare our clients for today's market conditions, and yet it is still a little intimidating for some.
Again, I am all for home value appreciation. But is today's volatile environment setting us up for another market correction? If it continues, yes.
The graph below shows the national annual appreciation of home values. The national appreciation for 2015 was 6.8 percent. That is not far off from the Wichita State Barton School of Business Real Estate Study that predicted 6.1 percent appreciation for the Kansas City market for 2015. The graph below states that 2015 is just outside the 4 to 6 percent band that is considered sustainable. This is because historically when annual home value appreciation is within the 4 to 6 percent range, the real estate market remained healthy and suffered no major market corrections. A good example would be the period from 1994 to 2001. Please note that in 2002, appreciation jumped to 7 percent and in three short years the recession hit: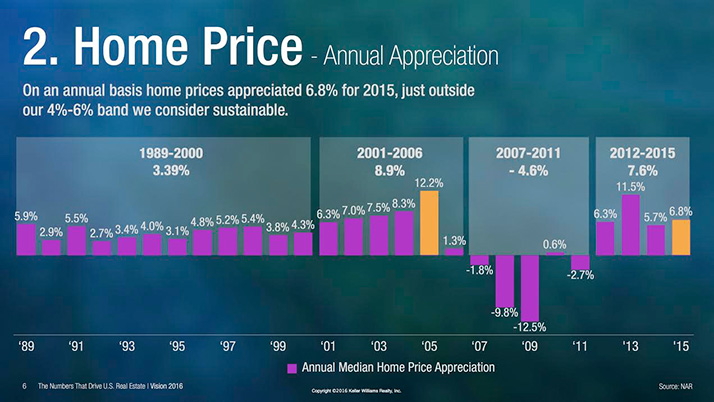 The same Barton School study is predicting 6.3 percent appreciation for 2016 in Kansas City. Again, this is still slightly outside of the sustainable range. This is not to say that the sky is falling. The real estate market in our area is exciting and robust. However, consistent rapid growth in home prices cannot be sustained. Eventually, more and more buyers will be priced out of the market. As buyers exit the market, inventory increases and demand lessens. This is a natural correction. Just this week I have noticed that for the first time, some homes are sitting on the market and not going under contract immediately. This is usually the first sign that buyers are rejecting current value levels. Only time will tell.
A positive result of the current home value appreciation is that the percentage of home owners who are underwater, or in a negative equity position, is at its lowest point since 2010. As a comparison, in the second quarter of 2010, 25.1 percent of homeowners nationally were in a negative equity position. As of the end of 2015 percent, that number has dropped to 8.1 percent. This should allow more sellers to enter the market in 2016 who once could not afford to sell. Hopefully this will help to balance out the market a bit and add to the limited inventory of homes.
The long and the short of it is that as with any investment you can never time the market. Corrections usually happen slowly and then suddenly. However, we can learn from the past and be aware of historical trends. Hopefully our market will naturally balance out so that we can achieve sustainable appreciation. It is truly what is best for the health of our market.
This weekly sponsored column is written by Chad Taylor of the Taylor-Made Team and Keller Williams Realty Key Partners, LLC. The Taylor-Made Team consistently performs in the top 3 percent of Realtors in the Heartland MLS. Please submit follow-up questions in the comments section or via email. You can find out more about the Taylor-Made Team on its website. And always feel free to call at 913-825-7540.