By Chad Taylor
Question: Now that we are in a seller's market, is there an advantage to selling the house by myself, or FSBO (for sale by owner)?
As a Realtor, most people just whisper the term "FSBO" around me. It's quite amusing. Honestly, some of my best clients have tried to sell a house themselves at some point in their lives. Additionally, our team has found some great homes for our clients that were FSBO. I am an independent business owner myself, so I can appreciate the entrepreneurial spirit of the FSBO. A lot of the time, I find that the seller offering their home for sale is a lot like me. With one distinction, that is: They don't sell homes for a living.
Really, I think that numbers (statistics) are the language of my business. Facts, not feelings, give you clarity. So what are the facts?
In 2012, 9 percent of the homes that sold nationally were FSBO. Of that 9 percent, one third of them sold to someone the seller already knew. So that means that really only 6 percent of the homes that sold FSBO were sold on the "open market." Conversely, 88 percent of the homes that sold nationally were listed with a Realtor on the open market.
Let me put it like this: Let's say that I had two lottery tickets and one of them was a winner. One ticket had a 6 percent chance of winning and the other had an 88 percent chance of winning. Which ticket would you pick?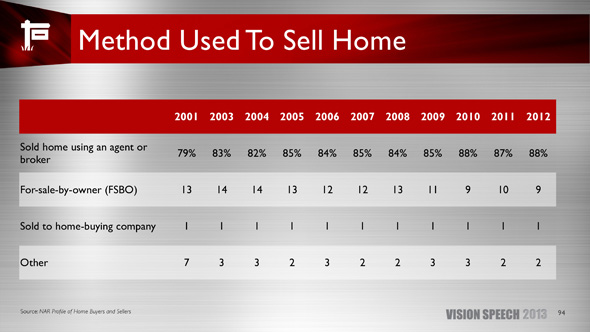 Let's dig a little deeper. And in this scenario, I am going to use my team's stats to represent a full-time, full-service Realtor. Statistically*, a FSBO will achieve 4 to 5 percent below the "average" Realtor in a market when you compare original list price to sales price. The average days on the market for a FSBO is usually two to three times as long as a listed property. In Kansas City, the average Realtor is accomplishing 92 percent of their original list price (OLP) in 99 days. Therefore, conservatively, a FSBO might sell for 88 percent of the original list price in 198 days. Our team's listings are selling for 97.5 percent of original list price in 26 days.
Comparing the two results, on a $250,000 home, our clients will retain an additional $23,750 in equity and will save five and a half additional months of carrying costs (insurance, taxes, etc.). That is a 9.5 percent gap. Finally, in 2012, 89 percent of all buyers retained the services of a buyer's representative who received compensation from the seller.
So when we talk about going with a Realtor over pursuing the FSBO route, we are not talking about saving commission dollars, we are talking about protecting equity. And protecting time. How much is your time worth? The National Association of Realtors Profile of Home Buyers and Sellers reveals that the third most difficult task for FSBOs was having enough time to devote to all aspects of the sale. The first and second most difficult tasks were getting the right price and interpreting the contracts, respectively.
Honestly, I cannot take all of the credit for the aforementioned results. Our clients are incredible! They accept our stager's suggestions to improve condition. They follow our coaching on pricing. It is truly a partnership and I am so grateful to have the opportunity to work with such great people.
*Statistical data from the National Association of Realtors

This weekly sponsored column is written by Chad Taylor of the Taylor-Made Team and Keller Williams Realty Key Partners, LLC. The Taylor-Made Team consistently performs in the top 3 percent of Realtors in the Heartland MLS. Please submit follow-up questions in the comments section or via email. You can find out more about the Taylor-Made Team on its website. And always feel free to call at 913-825-7540.
By Chad Taylor Question: What is the difference between a short sale and a foreclosure? A short sale is when you sell your house
By Chad Taylor Question: Why is the housing market "heating up" so early this year? Boy, this could be a very long answer. However, I
By Chad Taylor Question: If someone has just moved into the area, are there any particular stores or restaurants you recommend they be sure
By Chad Taylor Question: What costs are involved in buying a home? Let's answer this question in chronological order. A buyer's first out of
By Chad Taylor Question: What repairs are most commonly requested of the seller during the inspection process? Is it just another "bite at the