The Woodland Forest apartment project near K-10 and Woodland Road near Olathe's border with Lenexa is one step closer to reality.
Earlier this week, a divided Olathe City Council voted 4-3 to approve a preliminary site development plan and attached rezoning request that will bring multifamily housing to the last leg of the Woodland Corridor area in that city.
That area of Olathe, annexed in the late 1990s, was identified for conventional single-family neighborhoods and green space development in line with the Woodland Corridor Plan.
That plan also outlines rules for housing density per acre, maximum building height and tree preservation.
344 new apartment units are included
The plan proposes eight apartment buildings no taller than 3.5 stories in the area near K-10 and Woodland Road.
There are also a series of amenities planned, including a clubhouse with a pool, a dog park and a city trail connection.
The developer, Lenexa-based Oddo Development, also plans to add a traffic signal at Woodland and 105th Street through a transportation excise tax abatement agreement.
Woodland Forest plan has hit snags in the past
Woodland Forest first emerged in 2020 as a single mixed-use proposal put up by a different developer, Clay Blair's Prime Development Land Company, LLC, but it didn't move forward.
It came back in 2021 as a three-part proposal, and the city council authorized a single-family housing and senior living plan. The developer withdrew a commercial project after the Olathe Planning Commission recommended it be rejected.
The multifamily housing proposal, which had roughly 40 more units designed in it, was sent back to the planning commission in late 2021 following prolonged debate.
The 34-acre property has sat undeveloped for years
Councilmember Kevin Gilmore said he feared failure to adopt the apartment complex plan could leave the site unused for another 20 years.
"If this had been the piece of property for single family development, it would have been gone long ago," he said.
Curtis Petersen, an attorney for the developer Oddo, called the new plan a "viable revision," considering the complex topography at the site and its proximity to a busy highway.
Still, several neighbors opposed the plan as presented Tuesday.
Stephanie Hanaway, a resident of the nearby Mill Creek Farms subdivision, said she'd be supportive of some type of multifamily housing in the area but only if it was less densely packed than what's on the table.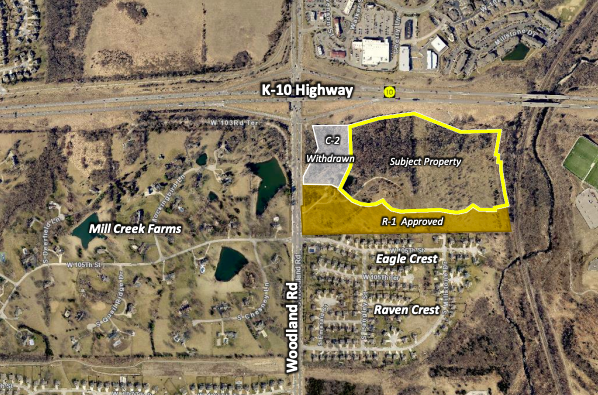 Council was divided over preservation of Woodland Corridor Plan
Councilmembers Gilmore, LeEtta Felter, Wes McCoy and Mayor John Bacon supported the proposal, while Marge Vogt, Adam Mickelson and Robyn Essex voted no.
Vogt, who was on the council when the corridor plan was originally adopted in the 1990s, said she opposed the developer's proposal. She cited concerns about housing density and diverging too much from the corridor's rules.
"It's about promises made, promises kept," she said. "I understand the dollars and the cents, but I also understand the commitment that I've made."
Gilmore acknowledged the overall success of the Woodland Corridor Plan so far, but said he supports the deviation from it now.
"If this project was anywhere else in the city, we'd be begging for it to come," he said.
Next steps:
The council's vote on Tuesday isn't the last time the Woodland Forest project will come up.
The 4-3 vote ordered city staff to prepare an ordinance authorizing the site's rezoning and preliminary site development plan.
That means it will need to come back for a formal vote again, likely during the April 4 Olathe City Council meeting.
Keep reading: Once-fraught Olathe apartment project near Lenexa gets new life