Major construction on the second phase of the Johnson County Square project on the site of the former county courthouse in downtown Olathe is about to wrap up.
This phase of the public square project, which sits on Santa Fe Street between Kansas Avenue and Cherry Street, will bring more amenities to the open green space between the county administration building and the new courthouse to the north. Construction began in the spring.
New amenities are coming to the county square
Included in this phase is a new multi-use platform at the corner of Santa Fe and Kansas Avenue.
There will also be an art garden near the platform featuring both public art and play areas.
A new historical plaza will be placed by the Children of the Trails sculpture and fountain near the entrance to the Johnson County Administration building.
More trees and additional public seating are planned as well on the square's southeast corner.
Johnson County Square has historical significance
Before the new one opened across Santa Fe Street in 2021, the former Johnson County Courthouse sat on the square's site, serving the county for roughly 70 years.
After the demolition of the 1950s courthouse was completed in 2021, work began to restore the site — which was a public gathering place before the former courthouse was built there.
The demolition and first phase of the square project were included as part of construction of the new $190 million courthouse.
This most recent phase — valued at nearly $3 million — was paid for through a partnership between the city of Olathe and Johnson County government.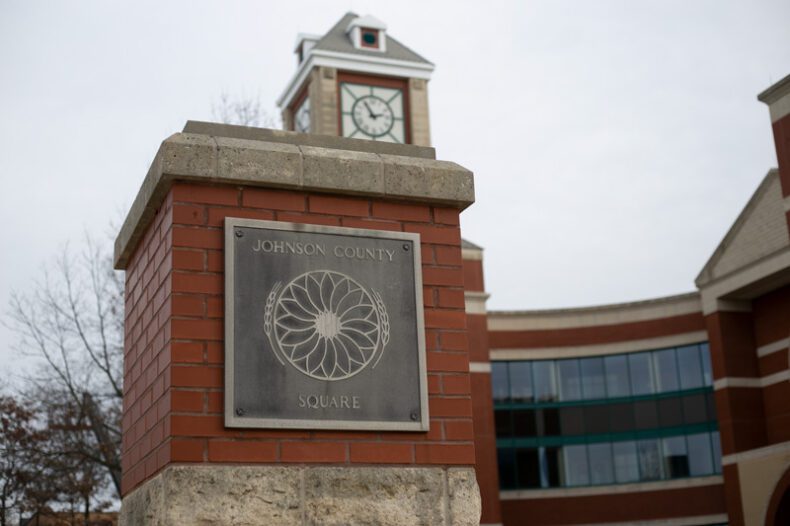 Old Settlers Days will be in the county square this year
The exact overall completion date for this phase of the project is unclear, but work on it should be wrapped up enough to host Old Settlers Days in the square, Assistant County Manager Joe Waters said in an email.
That annual event begins Thursday and will last through Saturday.
The Olathe Chamber of Commerce is also planning to hold its Fourth Friday event around the county square on Sept. 22. Plus, the city of Olathe intends to host an art show in the space in October.
That being said, some additional work on the square may be required throughout the rest of this year, Waters said.
Looking back: Johnson County Square unveiled on grounds of old county courthouse