Johnson County Parks and Recreation District is seeking public input on a public art installation at Meadowbrook Park in Prairie Village.
The 136-acre park at 9101 Nall Avenue is on the verge of getting a large-scale, $95,000 permanent art piece — part of the master plan since before the park's inception in 2018.
JCPRD made a national call for artists to submit designs earlier this year and received 146 applications.
Artists were asked to consider the following when designing the proposed piece, as outlined by JCPRD's website:
How it would "support the overarching goals for the public art program" by "creating an interactive, immersive and inclusive experience."
Complement Meadowbrook Park's uses, work at a human scale and appeal to a wide audience.
Contribute to the park's identity "as a place to experience art, play and nature," as well as complement the park's design.
An art selection committee of artists and community members whittled down the list to three design options.
Now, JCPRD is seeking public input on which of the three finalists should be chosen for an installation.
Public input can be provided online here until Friday, Oct. 22.
Below are descriptions of each option — two of which are centered around sunflowers — as outlined on JCPRD's website.
"Three Sunflowers" by DiBari and Associates
This design — one of two finalists centered around a sunflower theme — features three sunflowers made out of powder-coated aluminum. A piece of the sunflowers are made of textured glass to allow it to capture sunlight and project "a subtle ray of colored light that will travel through the sunflowers," according to JCPRD's website.
Patrons will be able to manually spin the flower petals to face the light. LED lights at the center of the flowers will be used to continue the sunlight effect at night.
DiBari and Associates, a Miami-based art design firm, says sunflowers "represent vitality, longevity, positivity and happiness," according to their application.
The piece is also inspired by famed Dutch artist Vincent Van Gogh, who often painted sunflower themes.
"Gateway" by Amie Jacobsen Art and Design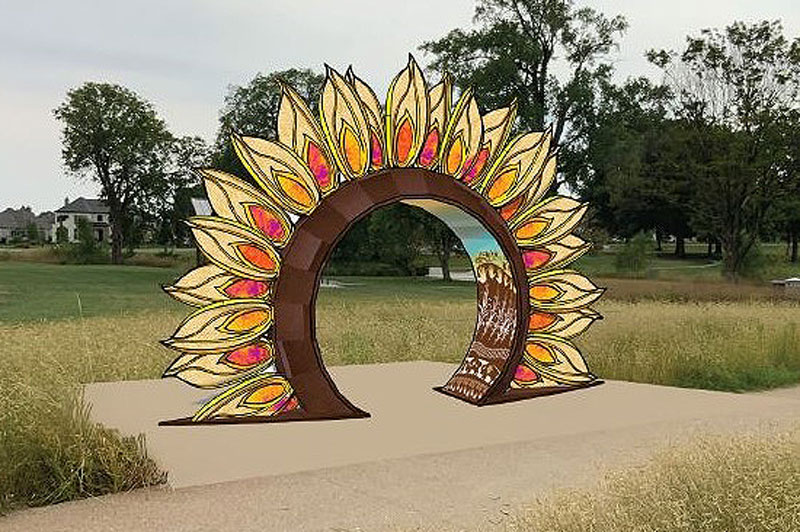 The second sunflower design option, "Gateway," features a large sunflower-shaped arch standing at nearly 12 feet tall. It will feature about 24 brightly colored petals made with "a center of cast glass, that will glow in the sunlight as well as with the lighting at night," according to JCPRD's website.
A history of Meadowbrook Park and Prairie Village is captured inside the arch with illustrated panels. Behind the panels will be "a mirror polished stainless steel" that "represents the present and future of the community."
Amie J. Jacobsen is a Kansas City-based designer and sculptor who has a studio in Independence, Mo., with three assistants. The team's finished sculptures, furniture and public art pieces can be found nationwide.
"Shade T(r)ee" by StudioKCA
The final design option is an ode to the former golf club that sat on Meadowbrook Park grounds — as well as the "upcycled" theme of the park.
"Shade T(r)ee" will feature a 60-year-old, 35-foot white birch tree made of 40,000 golf tees, representative of the number of tees that can be made from one tree.
Brooklyn-based StudioKCA calls "Shade T(r)ee" an "upcycled" tree that symbolizes the park's "commitment to recycling and reuse of this private golf club into a public park," according to JCPRD's website.