The new bakery in Mission must be a hit if the owners keep selling out of fresh, homemade goods.
Brian's Bakery and Eatery, located at 5622 Johnson Drive, has had a nonstop flow of customers since its soft opening last week.
"We have been slammed every day," said Brian Sullivan, owner and baker of the shop.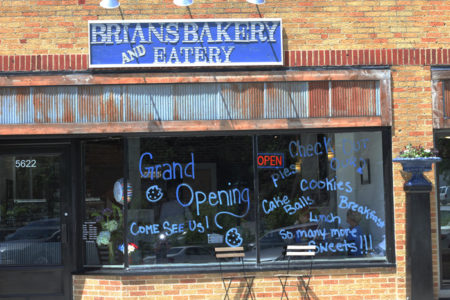 The bakery boasts fresh-baked goods such as mini pies and cake balls, as well as a light breakfast and lunch menu — the biscuits and gravy as well as Reuben and chicken salad sandwiches are especially popular, noted Sherry Sullivan, Brian's wife.
Several of the cookie recipes come from Sherry's great-grandmother, Brian added. After observing what customers seemed to like this past week, they've decided to adjust the menu, hopefully to include vegan and gluten-free options.
Alongside several active family members — including granddaughter Charlee Shrader — the launch and daily operations of the bakery have been "a group effort," the Sullivans said.
"We've had some really good people that have helped us along the way," Sherry said, dropping half a dozen names in a non-comprehensive list of angel helpers.
Besides the Sullivans' children Will Fitzpatrick (with his wife, Juliana, and their son, Parker) and Shannon Plueger (with her husband, Travis, and their daughter Charlee Shrader), the Sullivans ultimately want to thank the community, especially Brian Stoner, Terry Oszman, Carl and Cathy Casey (owners of Casey's Auto Repair), Austin Chamberlin and Mike DeVault — just to name a few — for their support and encouragement.
After nearly two decades working as maintenance and facilities supervisor for the Sylvester Powell Jr. Community Center, Brian decided to make a career change. Two weeks after his last day, he came up with the bakery idea.
"I'm just one of those people that I make a decision, we go with it and jump in with both feet, and I'm fortunate [that] my wife is always supportive," Brian said.
Beverly Beardé and Michael Beardé with Beardé Salon recommended and ended up leasing the bakery space to the Sullivans. The space was previously occupied by the boutique and vintage shop Sweet Annie.
"Lots of people have walked in and said this is very welcoming; it's very family-oriented," Brian said. "That's what we wanted."
Brian said the service is "not speedy fast" like at a chain restaurant, what with a small staff and low-key atmosphere. His former colleague at the community center, Rick Moon, is a member of Brian's new staff at the bakery.
Granddaughter Charlee Shrader — a big supporter of Brian's baking — said she had been pushing him to open a bakery for years.
"With as long as he's been baking and everything, I knew that he had a gift from the start, when I was born," Shrader said. "I just knew that something [good] was happening. And I told him, 'You've got to open a bakery — someday!'"
The bakery is the latest addition to Johnson Drive's growing business suite. Welcomed with open arms by their neighbors and well accommodated by the city of Mission, the Sullivans said they knew at least 75 percent of the customers who visited on their grand opening Friday, which was also a success, as they sold out of several items.
"We did three times as much as what we were projecting to do, and the only advertising we've done is on social media," Brian said. "It just exploded."
Brian's Bakery and Eatery is on Facebook and Twitter (handle @BrianBakery), as well as Snapchat and Instagram at briansbakery18. Hours will be 6 a.m. to 2 p.m. Monday through Friday and 7 a.m. to noon Saturday (breakfast only).
"It's been awesome," Sherry added. "It's well exceeded our expectations. We've been very blessed."