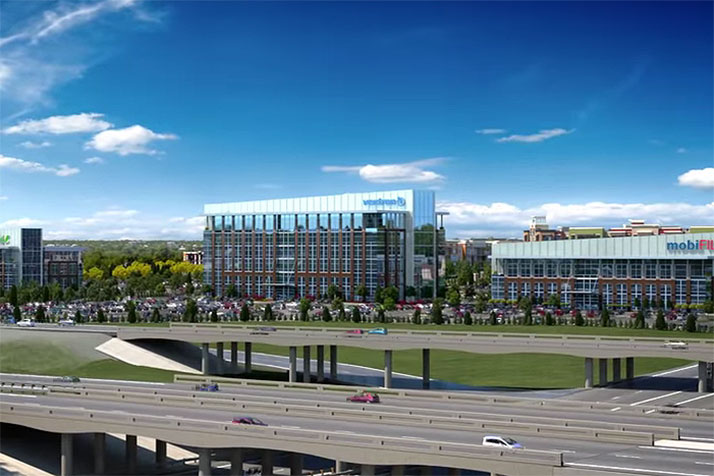 By Roxie Hammill
Residents of Lenexa and Shawnee might have felt a little déjà vu, had they been listening in on the discussion recently in an Overland Park committee meeting.
A local software business – going gangbusters from all accounts – has outgrown its space and wants to relocate. The move will require construction of a new top-of-the-line office building. City officials, told by developer Ken Block that the project would "get the ball rolling" at City Place, were so excited they began talking about ways to speed up the public financing process.
The resemblance to the Perceptive Software move from Shawnee to Lenexa in 2012 is uncanny. Lenexa came out the winner back then with an attractive incentives package. Now it's Lenexa's turn to watch as Mediware Information Systems, an 18-year-resident of the city, negotiates for a place in Overland Park.
The details are still being worked out, but Mediware has asked for a 10-year, 50-percent property tax abatement plus economic development revenue bonds of up to $31.6 million to pay sales tax on some equipment costs. If things work out, city elected officials hope Mediware will be the boost needed to draw more tenants to City Place at 113th Street and Switzer.
Though the development rivalry between Kansas and Missouri gets the most press, companies have shown lately that they are also willing to move within Johnson County, even if it's only a mile or two.
Mediware's relocation is about five miles, a little less than Perceptive's move to Lenexa. Creative Planning of Leawood is looking to move into Overland Park digs about a mile and a half away. Mariner Holdings recently made a move of about the same distance from Leawood to new headquarters in Overland Park.
To a casual observer, it might look like Johnson County cities are poaching on their neighbors' ground, stealing promising businesses away with promises of big tax giveaways.
But officials from cities and chambers of commerce say that's not the case. Active pirating of a business from a neighboring community is not done, as a matter of intercity diplomacy, they say. In fact, Chamber leaders from Shawnee, Overland Park and Lenexa all said they only market themselves outside the Kansas City Metro area.
"This isn't a blood sport," said Ann Smith-Tate, CEO of the Shawnee Chamber of Commerce. "We all work very well together and are friends and colleagues," she said.
If a developer comes knocking with a business already on the line, though, that's a different story.
Lenexa Mayor Mike Boehm sketched out the hypothetical. "Just as a ludicrous example, if Commerce Bank downtown called out to me and said I want to move to Lenexa, I can't say 'No, I can't talk to you.' But I'm not downtown talking to Jonathan Kemper everyday saying, 'How about we move your headquarters to Lenexa?'"
But occasionally those calls do come, as they did with Mediware and Perceptive. And when that happens, cities are often compelled to hasten things along by reaching into their bag of special taxing districts, abatements and bonds.
Johnson County cities are competing with each other, like it or not. And lately they have all been chasing after the same thing – Class A office space.
The definition of Class A office space is somewhat fuzzy, mostly in the eye of the beholder. The business and city leaders contacted for this story said they think of it as well-turned-out, often new offices that have top-quality amenities.
There are around 11 million square feet of this type of office space in the south Johnson County submarket, said Blake Schreck, Economic Development Director of the Lenexa Chamber of Commerce. That may seem like a lot, but the vacancy rate has hovered around 6 or 7 percent.
When offices are filling up that fast, it become a problem attracting new business because there isn't space available for them to move to, said Beth Johnson, vice president of economic development at the Overland Park Chamber of Commerce. "With the vacancy rate below 8 percent that means we basically have no vacancies. So if a company is coming in looking for space they don't have a lot of options," she said.
The numbers have convinced some on the Overland Park City Council that the city needs more office space pronto. The subject comes up frequently at city meetings and word has gotten out to developers that it's a priority.
Several office developments are in the works. Along with City Place, there's BluHawk and Phase 2 of Prairiefire. The downtown Edison project also includes office space. But those projects probably won't go up until tenants sign on, Johnson said. "In today's world, 'on spec' is not going to happen," she said. "That makes us want to find these opportunities."
The Mediware move is happening because the company knew it needed bigger space and was in contact with the developer for the City Place spot, not because Overland Park went out and convinced them, she said.
Shawnee and Lenexa have slightly different approaches, but they're equally interested in new Class A office space.
The fact that office space is more and more sought-after by cities has a lot to do with evolving state tax policies, said Lenexa Mayor Mike Boehm.
Years ago, Lenexa, Shawnee and Overland Park had different niches carved out for themselves, he said. Overland Park always was an office and retail powerhouse. Lenexa was known more for warehouses and Shawnee had residential development, he said.
Over the years, though, Kansas began to exempt certain things from property tax, among them warehouse inventories. That caused a big dip in Lenexa's revenue base, Boehm said.
As a result, "retail has become more and more important to all of us," he said.
Filling that personal property tax gap meant the city needed more people working in town, perhaps eating out and shopping on their lunch hours, he said. Although there were still warehouse employees, they tended to brown-bag it for their shorter lunch periods.
Hence, Class A office, attracting higher salaried workers with longer lunch breaks.
Lenexa has incorporated its office space into mixed use project like City Center, and not so much as stand-alone office complexes, said Schreck.
"We decided our tack would be a little different. We certainly wouldn't preclude some big office development." There are places for that along Renner Boulevard or perhaps over the Meritex caves, he said.
But for the most part, Lenexa is doing mixed-use development. "I think we've decided that's going to be a little bit of our identity to remake what suburban development is and incur a little more sustainable model. So far it's working."
Sometimes, though, it works in unexpected ways. The Perceptive deal didn't have a storybook, forever-after ending for Lenexa. There was a buy-out, then layoffs. It was recently announced that the Kiewit Corp. would buy and move into the Lexmark building on Renner originally built for Perceptive, which reportedly still has a few employees there.
Even so, Lenexa's incentives to Perceptive were not a waste, Schreck said. Perceptive did, in fact, kick-start the City Center development that had taken years to gain speed. When the company moved, it left a building that could be filled by other businesses. The incentives were more about the building than the company, he said.
As for Shawnee, the pain continues. Towards the end of this month, the former Perceptive building in Shawnee will be auctioned off, a reminder that its 95,000 square feet of office space are sitting empty, a major reason for Shawnee's 19 percent vacancy rate on office space.
Shawnee's problems finding development are partly due to the rocky hills in its most open areas to the west. That is compounded by the fact that the Shawnee council is more restrained in giving out tax increment financing and other incentives developers say they need to compensate for the more expensive building costs.
There are some bright spots for Shawnee, though. It's one of the few cities to have office space built recently on spec, said Smith-Tate. The Stag's Creek complex on Shawnee Mission Parkway touts itself online as a replacement for a pawn shop, "raggedy used car dealers, abandoned restaurants and tired strip centers" at the city's eastern gateway.
Development there was partly due to the city's willingness to spend on flood control and a big redo of Nieman Road.
Councilmember Stephanie Meyer believes the mood may be shifting about tax incentives. "It seems like we're getting some good momentum," she said. "I don't want to go too far overboard, (on incentives) but there's somewhere in the middle and I think we're getting closer to that spot."
A lot of voters were disappointed to see Perceptive move out of Shawnee, asking why the city didn't do more to keep it, she said.
But watching Perceptive cut back after moving to Lenexa was also cautionary, Meyer said. "It's a bit of a risky game."