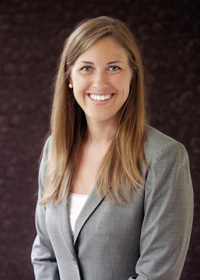 Kansas House Rep. Emily Perry withdrew her name for reelection to the 24th District ahead of Monday's filing deadline with the Secretary of State's office, ensuring the district that includes part of Merriam, Overland Park and Mission will have a new representative after this November.
Perry is set to get married this August, and will be moving out of the district to live with her future husband at his home in Prairie Village.
Two candidates, Democrat Jarrod Ousley and Republican Brandon Hermreck, have filed to run for the seat.
Perry endorsed Ousley in a press release announcing her departure from the race. He is the husband of Heather Ousley, who organized a trek from Johnson County to Topeka in a show of support for better school funding.
"I met Heather and Jarrod because of their passion for our public schools," Perry said in a statement. "Most of you know Heather from her 60 mile walk to Topeka to advocate for school funding. I've met with Jarrod and I know that he shares our values and he will be a voice of reason for us in Topeka."
Perry said she plans to remain active in political issues.
"I will continue to be active in my community and fight for the values we all share," she said.