Former Mission Mayor Laura McConwell has filed as a candidate for the Johnson County Board of Commissioners to represent District 1.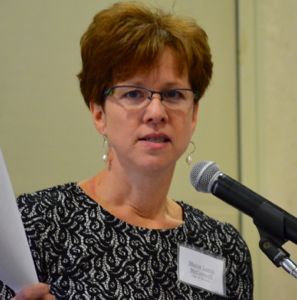 That puts McConwell in a race with current Prairie Village Mayor Ron Shaffer. A third candidate, Alex DiCarlo, also has filed for the seat which means a primary election will be held in August to narrow the field to two candidates.
McConwell served as Mission mayor for 12 years and before that was a member of the Mission City Council. In March, shortly before her tenure as mayor was coming to an end, McConwell told Shaffer that she was exploring the idea of a run for the commissioner's seat. McConwell, Shaffer and Mission Hills Mayor Rick Boeshaar met to discuss which of them might run for the seat prior to Shaffer's announcement in November that he would be a candidate.
Shaffer has been mayor of Prairie Village since 1999. DiCarlo has no political experience in northeast Johnson County. The current District 1 commissioner, Ed Peterson, is challenging Ed Eilert for County Commission chair, creating the vacancy.
In March, when McConwell said she was re-considering a run, she cited the fact that there are no women among the commissioners and that many of the commissioners are older than her. At that time she said, "As the months have gone by, I've thought a lot about what we've accomplished in Mission, and thought about the fact that there are no women on the commission and that it's an older commission. I intend to run on what I would bring and the work I've done. I have a lot of energy."