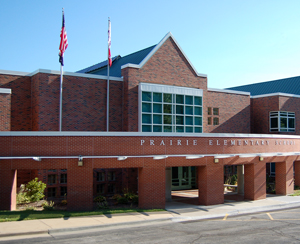 SM East tennis keeps rolling
. SM East's tennis team kept up its championship caliber play Thursday in the Sunflower League meet, taking the first and second place titles in both singles and doubles. Brooks Kendall won the singles title, with teammate Jack Santilli placing second. The duo of Jamie McDonald and Elliott Renft, who was playing place of an injured Reese Goulding, won the doubles title. Teammates Jeff Larrabee and Matt Schuetz took the number two doubles title.
Prairie Elementary to hold reception for retiring staff. The Prairie Elementary community will gather Tuesday, May 13, in the school library to with a fond farewell to retiring and departing staff. Marja Crouse, reading teacher, Donna O'Neal, third grade teacher and Susan Michael, nurse, are all retiring. Fourth grade teacher Lynn Johnson is moving out of state, and educational aide Teri Carrender is being assigned to a different school. The reception will start at 4:30 p.m.
Three-city recycling event Saturday. Prairie Village, Leawood and Overland Park are joining forces for a "Recycling Extravaganza" Saturday morning from 8 a.m. to 2 p.m. It will be held in the parking lot on the northeast corner of 95th and Metcalf. A wide variety of items will be accepted. More information is available here.
SM East grad earns history award at Creighton University. SM East graduate and current Creighton University student Henry Hoffman received an award last week for his performance as a first-year history student. Hoffman won a Joseph A. Robbie Award, which are given to first year students who show exceptional ability in their introductory history course.
Woodside pool passes on sale for Westwood residents. Westwood residents can now purchase pool passes to the Woodside pool for the 2014 season. Passes cost $40 for individuals and $85 for families. For more information, visit Westwood's website.