Today we continue with the responses of the candidates for Prairie Village City Council to the questionnaire we developed based on reader input. Here's item number two:
In 2012, the Prairie Village City Council voted to keep the Mission Valley property zoned R1-A without conducting an analysis of other potential uses for the site. Do you think the city should have considered commercial uses for the site? Under what circumstances would you favor the commercial development of land that might become available in Prairie Village in the future?
Ward 1
Jori Nelson
The Mission Valley fiasco is the result of a failure to plan. Our elected officials should have been planning for the closing of the Mission Valley School and for alternative uses of the property long before it was closed. We knew well in advance that Mission Valley was a potential target for SMSD budget cuts. Given that our leaders failed to plan properly before the school was sold – and that they failed to make a bid on the property when offered – I believe R1 represented the best interests of the city and surrounding neighborhoods.
J.C. Nichols said, "too late are the saddest words in planning". These words can be applied to how our City has planned in general. As a city we must take the initiative. If we reasonably know that a school will close (Somerset and Mission Valley) or that a country club wishes to develop its property (Homestead and Meadowbrook) then we must responsibly plan so that future uses of these properties are developed in accordance with the best interests the property owner as well as the City of PV.
If elected, I will be open to residential, commercial, and park development. The City Council has the ultimate authority to approve a development. Thus it's imperative we elect representatives who will put PV first.
I'm asking for your vote. As your Council member I commit to put the interests of PV and our residents first. As your Council member I commit to serve the entire four year term. As your Council member I commit that I will never compromise my principles or compromise the best interests of PV in order to assist my friends. Please visit my website at www.jorinelsonforpv.com and please email me with questions or to ask for a yard sign at [email protected]
I could easily have seen a smaller commercial element here, or in a similar location along a major corridor. The market would support it. Further, it would be in keeping with current, well-established planning that incorporates compatible mixed uses in one attractive destination or project. Several examples are in our area–Mission Farms, Park Place, etc. These centers are planned for today and the future. The have enhanced property values surrounding, not diminished them.
Ward 2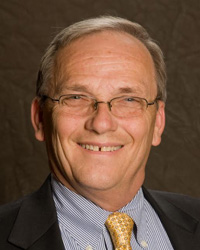 Steve Noll (incumbent, unopposed)
The Prairie Village City Council made the right decision when we voted to affirm the R1-A zoning at the former Mission Valley Middle School site on Mission Road. The adjacent property owners clearly expressed their concern that a potential zoning change could result in commercial development of the site. In fact, an early proposal was a mix of residential and commercial retail. By affirming the existing residential designation, the council strongly expressed its preference for residential uses of the property over commercial uses. We also needed to consider the impact of new commercial development on our existing commercial business base. If new commercial development is likely to cannibalize our current business community, what has Prairie Village gained? Little or nothing.
I did not believe city funding for an analysis of the potential uses of the site was appropriate. We already knew that a broad range of residential uses were allowed and would likely be successful. While a variety of commercial or other uses could be identified by undertaking the study, the cost of that research and analysis should be underwritten by the real estate or development entities, not the City.
Let's be straightforward about what additional land might become available for commercial development. There isn't any "new" property, only existing tracts to be redeveloped. Yes, there are a couple of possibilities, currently private clubs, and both are surrounded by existing residential neighborhoods. Currently both are the subject of marketplace conversation and speculation, and we are in for an extended period of discussion and deliberation as the future uses of those properties are identified. The interests and investments of current residential and commercial property owners must be considered, and any new commercial development must compliment those interests.
Ward 3
Eric Mikkelson
We should consider all viable potential land uses at the appropriate time. Each parcel will have its own unique "best-for-Prairie Village" solution.
With scarce green space left in our City, any new major proposed commercial development should be scrutinized to ensure it will fit and strengthen our community character and Village Vision. Ideally, any such development would complement, connect, unite and enrich our local neighborhoods socially, economically and aesthetically. It should be comfortably accessible to the pedestrian and bicyclist, as well as the driver.
In making decisions regarding new commercial development, we should also proactively consider alternative uses available for any particular parcel. These alternatives especially include uses that would fulfill other priorities of the Village Vision, such as the City's strategic acquisition of additional park land, or mixed use development.
In walking our Ward 3 neighborhoods and speaking with many of you recently, I've confirmed that these priorities are at least as relevant today as they were when the Village Vision was adopted in 2007. With your help, we can collaboratively identify and implement the right balance of these important City priorities in our land use decisions in the upcoming years.
Ward 4
Laura Wassmer (incumbent, unopposed)
I do not believe that strictly commercial uses were appropriate for the former Mission Valley site due to the close proximity of the surrounding residential neighborhoods. I do believe that a mixed use development including mostly residential, with a small portion allocated to low impact office/retail should have been more thoroughly considered. With Prairie Village being a "built-out" city, any redevelopment must be considered on a case by case basis considering the surrounding area, the impact to residents, and the value the development would provide to the city as a whole.
Ward 5
Marc Baratta
With the Mission Chateau project, I believe the council did not react as quickly as necessary to optimize the potential of the land. Knowing the school and land was going to go on the open market; I believe the city should have aggressively conducted talks with the SMSD to slow down the sale process. This was and is a valuable parcel of land, and the SMSD had the obligation to ensure the land was sold within the best interests of those who paid for the school (i.e. the taxpaying citizen). In my opinion the council did not act swiftly enough to ensure this happened. However, this was complicated by a group of residents who ensured an analysis could not be conducted by the city citing cost and do not appear to have the future economic viability and growth of PV at the heart of their motives. Unfortunately, a number of bad decisions were made that has placed the city in the divided position we see today. To obtain my support for future developments, proposals would have to incorporate balanced housing, economic development and civil engagement. In a landlocked city like PV, we need to maximize any future development, and the best way to do so is through mixed-use developments. Not only do these provide additional housing, but offer the amenities of businesses that are important to a neighborhood, as well as shops and restaurants that will generate sales tax revenue from PV citizens and citizens from surrounding cities. We do not need to look any further than to the south and the success of the Mission Farms development in Leawood. This is a perfect example of how you can incorporate housing and retail to promote positive economic development and should be a model for future development of PV.
Dan Runion
Prairie Village residents should feel secure that their property value will not be adversely impacted by commercial development. I would consider a proposed change in property use to commercial purposes if the proposal is consistent with our city's master plan, Village Vision, and fosters our sense of community. Information that I would consider includes whether a development is compatible with the neighborhood, has the "buy-in" of the neighbors, aligns with applicable zoning requirements, and provides a demonstrable net financial benefit or other benefit to our community.
Ward 6
Terrence Gallagher
Prairie Village is first and foremost a residential community. I had the opportunity to serve on the Village Vision Steering Committee which established a framework for our city in the future. Our residents participated in that process, expressing their thoughts and concerns for our city. Any potential development should adhere to the guiding principles that were established through Village Vision.
We have several key commercial areas that are primarily comprised of small businesses, restaurants, shops and services representing diverse interests and needs. Whenever we have the circumstance to consider commercial development, we need to be extremely careful to maintain the integrity of the community. Any commercial development should be proportional to the surrounding area. One of the hallmarks of both Corinth Square and the Prairie Village Shops is the prevalence of small businesses.
We need to listen to our residents and do what's right for our community.
Paul Gorelick
It has been my experience that an external professional analysis of this nature is usually not so much objective and therefore is usually skewed toward an already decided projected or desired outcome. Although not always guaranteed, but usually much more objective, the city's in house professional staff provides a much more realistic, comprehensive, and objective analysis. Furthermore, these kinds of analysis are usually best done with new development property and new ideas.
That is not so much the case with Mission Valley or for that matter other commercial property uses that Prairie Village will have to consider in the near future. There has been considerable debate and discussion about Mission Valley. There indeed is, was, and will be extensive public and private talks on what is best for our community. So in effect, we have plenty of analysis. It started with the school district closing Mission Valley, the purchase of the property, the first Mixed use commercial proposal, which effectively reconsidered the R1-A zoning, and now the current proposal.
I would favor commercial development of land that follows the guidelines of our Village Vision, keeps in mind the Golden Factors so as to avoid unnecessary conflict, and foremost keeps in mind the character and personality of our great community.
Tomorrow we'll publish the candidates' responses to our second questionnaire item:
For the past several years, the Prairie Village City Council has allocated substantially less to street and parks maintenance and improvement than experts recommend. Would you be willing to raise taxes to support more funding for streets and parks? Why or why not?