Today we begin running the responses of the candidates for Prairie Village City Council to the questionnaire we developed based on reader input. Here's our first question:
The controversy surrounding the Mission Chateau senior living development saw many residents raising concerns about Prairie Village being branded a "retirement community." Do you see this as an issue? If so, what does the city need to do to counter that image and attract young families?
Ward 1
Jori Nelson
If the perception of PV is that we are a "retirement community" – then that is an issue. It is an issue because it couldn't be further from the truth. PV is a community that welcomes people of all ages. Sadly, many of our long time elected leaders – and our current Councilman – have missed opportunities to appropriately plan for our changing demographics.
As our demographics have skewed older and schools have closed – our current councilman has decided the best use for our closed schools (Somerset School and Mission Valley) and vacant property is senior homes. While it may be in his interests to help business friends and campaign donors – it is not in the long term best interests of PV to always convert schools into senior housing. Converting closed schools into senior homes and hospitals only reinforces the perception of PV not being welcoming or accommodating to young families.
I believe it is imperative that PV be dealing with SMSD to develop plans for alternative school uses ahead of any further school closings. As a City we need to recognize that it may be in our interests to purchase property if we wish to control its development or seek alternative city uses such as parks.
I'm asking for your vote. As your Council member I commit to put the interests of PV and our residents first. As your Council member I commit to serve the entire four year term. As your Council member I commit that I will never compromise my principles or compromise the best interests of PV in order to assist my friends.
Please visit my website at jorinelsonforpv.com and please email me with questions or to ask for a yard sign at [email protected]


Dale Warman (incumbent)
The amenities young families seek – and find – in Prairie Village are the very benefits which make families retire here. The quality of life and "village lifestyle" we have built during more than 20 years of service I have given to the Village are what have made and will continue to make it attractive: safe and clean neighborhoods, updated infrastructure, responsible public servants who are accountable and transparent to voters.
Mission Chateau takes a prime piece of real estate and upgrades the use. Yes, it may further identify Prairie Village as quite attractive for seniors. It will be a wonderful home to countless seniors now living singly or with an elderly spouse in Prairie Village who want to stay close to home. Their move will open up valuable housing choices for the rising generation that cherishes a close-in suburban location, that also boasts the finest schools. So we are abundantly more attractive to all age groups, and our shopping centers are blessed with a nearby growing buyer base. This is solid planning for the future.
Ward 2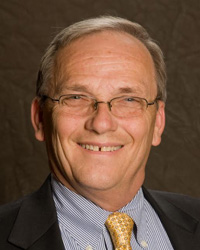 Steve Noll (incumbent, unopposed)
Under the full disclosure doctrine, I probably need to state that I am 61 years old. Although not "retired," I may be contributing to the perception that Prairie Village is becoming a "retirement community".
What conditions put our city on this path? Marianne and I bought our then 36 year-old Cape Cod home when we married 30 years ago. We expanded the house twice, and still enjoy the home we shared with our children. Our street is probably typical, a mix of residents that include the very young as well as some solidly "senior" friends. The reality is that our city is a great place to live, and many of our citizens choose to reside in their homes as long as possible. Can you blame them?
When we walk down to the Village Shops, many fellow walkers are younger than us, with toddlers and children in strollers or on bicycles. Drive by Porter, McCrum, Weltner or any of our neighborhood parks and you will see the playgrounds filled with all ages of patrons. Retirement community? I just don't see it. Three "senior living communities," or even four may offer residential alternatives in addition to thousands of existing single family residences, but they do not constitute an objective basis to label our entire vibrant community as "retirement" or elderly.
Good sidewalk and street infrastructure, well maintained parks and our tree-lined streets go a long way to keep our community competitive. In an era where many residents appreciate traditional classic housing styles, we need to be user-friendly for renovation projects that will make vintage residences relevant in the 21st century.
While we smart a little at hearing those "perfect village" remarks, it probably better describes our current community than any "Sun City" comparisons.
Ward 3
Eric Mikkelson
Development should be wisely balanced to create a more attractive long-term Village community for all ages. Our image, and more importantly our quality of life, will improve for young and old if we work together for exceptional parks, schools, shops, housing, fiscal integrity, and City services.
Ward 4
Laura Wassmer (incumbent, unopposed)
When I moved to Prairie Village 21 years ago, my street had a wonderful mix of residents including original homeowners who were retired, newly married couples, couples with young children, and singles. That mix continues today, as residents of all ages and life stages find Prairie Village a great place to call home. I don't see Prairie Village as a "retirement community," but we must continue to attract and keep a younger population–they spend money in our shopping centers and restaurants, and invest in their homes and our schools. The city's continued investment in our parks, swimming pool complex, summer recreational programs, retail centers, sidewalks, code enforcement, and community events such as Village Fest, are critical for attracting and maintaining younger residents.
Ward 5
Marc Baratta
I believe that PV has been unfairly branded as a retirement community by opponents of the Mission Valley development to create fear that our city is developing a reputation as something it is not. In my neighborhood alone, multiple homes have been sold in the past two years that have been purchased by younger couples and families. While there are a number of assisted living facilities in the city, the number of these establishments does not reflect the general population of the city. In order to combat this reflection, we need to focus on future generations of PV and focus our attention on shifting some of the city's priorities in this direction.
Living along Mission Road, I see a significant number of citizens enjoy both cycling and walking (along with their pets). The city will have spent close to $1.4 million from 2013 through 2014 to replace portions sidewalks and curbs. Any further repair or replacement plan should strongly consider the shift to pedestrian/cycling friendly walkways or cycling lanes on our major roads; depending on what is more cost efficient. Additionally, as I have been out campaigning, many residents have requested more biking and walking trails on which I intend to conduct a feasibility study if elected. The redevelopment of both Corinth Square and The Village Shops was a significant first step to attracting younger families, but we need to continue to build on this momentum by exploring new options for single family housing and condominiums that would be part of any development in the city. While we need to maintain the charm the Village has to offer, we also need to move forward to make this city attractive for future generations. They may seem small, but it is amenities like these that draw younger families to a city.
Dan Runion
Prairie Village was developed by J.C. Nichols as a community for residents of all ages. Demographic studies and census reports demonstrate that Prairie Village has a consistent, healthy mix of residents. Families move here because of the many things Prairie Village offers such as excellent public and private schools, strong communities, stable neighborhoods, a safe environment, recreational opportunities and a central location. We need to continue to provide excellent schools and services to continue to attract residents. Currently, two elementary schools located in Ward 5 of Prairie Village, Briarwood and Corinth, have some of the largest class sizes in the Shawnee Mission School District. A recent school district demographic study acknowledges that Briarwood is over capacity and that the pattern of growth is projected to continue. Should these trends continue, young families will be less inclined to move to Ward 5. In order to continue to attract young families, the city should work with the Shawnee Mission School District to ensure that our students continue to receive a high quality education in appropriately sized classrooms.
Ward 6
Terrence Gallagher
Prairie Village is a "front porch community" that is inviting for singles, young families, middle-aged people and retirees. We need to make remaining within the city a priority for our young families. We have vacant homes in Prairie Village, and we should consider measures to encourage permanent home ownership — and residency — for our families.
Prairie Village has a rich history as one of the first communities outside Kansas City proper. It's a first-tier suburb that has seen change resulting from urban sprawl as the metro has expanded south and west. However, living closer to the city is increasingly attractive to young professionals working downtown or in midtown. We need to explore our options for encouraging people to either return to or remain in Prairie Village.
As I've crisscrossed Ward 6, I've visited with residents in every stage of life. Prairie Village offers something for everyone.
Paul Gorelick
No. We are not a retirement community, nor are we being branded as a retirement community. It is only an issue to the extent that Mission Chateau itself is an issue. No need to counter an image that is not really true. Attracting young families is a matter of focusing on our good positive quality of life, our character, our parks, our schools, our neighborhoods, our services, our amenities, etc…
Tomorrow we'll publish the candidates' responses to our second questionnaire item:
In 2012, the Prairie Village City Council voted to keep the Mission Valley property zoned R1-A without conducting an analysis of other potential uses for the site. Do you think the city should have considered commercial uses for the site? Under what circumstances would you favor the commercial development of land that might become available in Prairie Village in the future?