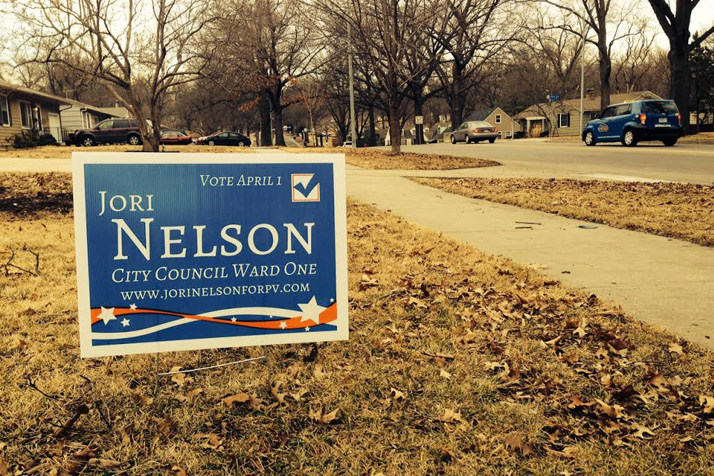 Prairie Village city council candidate Jori Nelson on Sunday filed a police report alleging the theft of 150 of her campaign signs, but Prairie Village police say they have no witnesses or suspects at present and have not been able to confirm the number of signs reported stolen.
Nelson filed the report early Sunday after noticing that around a dozen of her campaign signs were missing from her own street. She says she later drove around the ward and found that nearly all of the campaign signs she had distributed were gone. Nelson now purports that 150 yard signs were stolen based on her rough count of the number of signs still in people's yards, but she acknowledged she has not made an attempt to confirm that all the signs were indeed stolen as opposed to removed by the homeowner or a landscaper.
At one of the addresses where a Nelson sign disappeared, the homeowner reported that two signs for Nelson's opponent in the April 1 election, incumbent Dale Warman, were placed in the yard. Police fingerprinted those signs, but say they won't compare fingerprint records to those found on the signs until they identify a suspect.
41 Action News ran a report on the issue Monday that intimated Warman was dodging their attempts to contact him on the matter. Warman, who was in Florida at the time of the thefts and when the 41 reporter came to his home, said he was upset about that report, and that his campaign had nothing to do with the issue.
"When I was on the police department there were always signs moved or picked up," Warman said. "It could be someone found a Jori sign in their yard and didn't ask for it. I did hear of a couple of such cases. I would have nothing to gain from this and Jori would receive all of this publicity, so it would be stupid for us to be involved in such a childish gesture."
Former Prairie Village Councilor Pat Daniels, who is serving as Warman's campaign manager, said that Warman's campaign — staffed largely by experienced local politicians — knows better than to get involved in such tactics.
"Based on the character and ethics of our candidate, I can think of no one who would be attracted to our campaign that would stoop to this level," Daniels said. "I will add that some of our more ardent support is coming from people that know our competition best. Our competitor is wasting everyone's time with an unfortunate triviality, as she has done at City Hall for several years now demanding staff time."
Nelson, an outspoken figure during the debate over Mission Chateau, has been involved in other election controversies, raising eyebrows with accusations against city officials prior to the 2011 mayoral election. At that time she alleged that the city had spent $800 per night putting up a councilmember at a hotel during a National League of Cities conference. City records later showed the bill had been just $195 per night.
Warman said Monday he has not had a chance to inventory his own campaign signs because he has been out of town, but that he will be checking this week to see if any of his signs have been removed as well.
Nelson said she doesn't have any idea who would have stolen her signs.
"All I know is that it is obviously someone who thinks I'm going to win," she said, "and they wanted to stop the momentum we have from so much visibility with the signs."
Police Capt. Tim Schwartzkopf said the case has been assigned to a detective. Schwartzkopf said anyone with information about the theft should contact the Prairie Village police department.