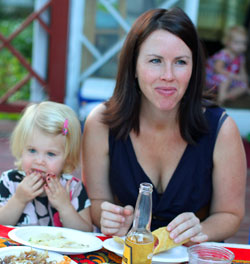 I read a
New York Times article recently
about how every cook needs a good marinara recipe. I don't know if three ingredients count as a recipe, but this is the marinara that I use on the regular. It's a great recipe to have in your back pocket, one to use when you are looking at your pantry and see nothing but a can of tomatoes, an onion, and a packet of pasta. This happens about once a week in my house, so you can imagine how often we make this dish. The whole meal costs us about $2 and stands up to any marinara I've ever enjoyed. See for yourself.
Recipe from Orangette.blogspot.com
2 cups whole, peeled, canned plum tomatoes, chopped, with their juices (about one 28-oz. can)
5 Tbsp. unsalted butter
1 medium yellow onion, peeled and cut in half
Salt, to taste
Combine the tomatoes, their juices, the butter, and the onion halves in a medium saucepan. Add a pinch or two of salt. Place over medium heat and bring to a simmer. Cook, uncovered, at a very slow but steady simmer, adjusting the heat as necessary, for about 45 minutes, or until droplets of fat float free from the tomato. Stir occasionally, mashing any large pieces of tomato with the back of a wooden spoon. Taste and salt as needed.
Discard the onion before tossing the sauce with pasta.