In an effort to keep our readers better informed about the state government actions that impact our communities, we will again be featuring regular update columns during the 2014 session from northeast Johnson County's elected officials: Rep. Barbara Bollier, Rep. Stephanie Clayton, Rep. Emily Perry, Rep. Melissa Rooker and Sen. Kay Wolf. Check back on Mondays to find out what's been happening the past week in Topeka. Rep. Perry submits this week's update: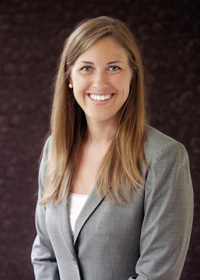 This past week, the Capitol had a flurry of business and lots of snow. We finally voted on a number of bills on the House floor, and in our committees. In the Federal and State Affairs committee we voted our first bill, HB 2453, the Religious Freedom Marriage Bill, out of committee. The legislation states that no individual or religious entity shall be required to provide "any services, accommodations, advantages, facilities, goods, or privileges" related to any marriage, domestic partnership, civil union or similar arrangement if it would be contrary to the "sincerely held religious beliefs of the individual." Additionally, no individual or religious entity would be required to treat any marriage, domestic partnership, civil union or similar arrangement as valid. The bill will now be sent to the House floor for debate, possibly as early as this week.
Proponents of the bill argued that their religious freedoms are in jeopardy, and the bill protects people from being "coerced" into participating in something against their beliefs. Proponents mentioned cases in Oregon and Colorado where a judge recently found that bakers who refused to make wedding cakes for same-sex marriages was discrimination. They argued this bill is necessary to prevent these businesses from choosing to keep their doors open or follow their religious beliefs. However, Kansas' anti-discrimination laws do not include sexual orientation or gender identity, so these businesses and individuals would be permitted to deny goods and services to gay couples even if the state's ban on gay marriage were invalidated.
I have many issues with this legislation, and will not, under any circumstance, support the legalized discrimination endorsed by this bill. During the hearing, I specifically asked if this bill would permit a police officer from refusing services in a domestic violence situation. The answer one conferee provided was that the police department would just find someone else to help the same-sex couple. Obviously, the conferee has very little knowledge of the dangers of domestic violence. In college, I volunteered as a domestic violence advocate, and I saw first hand the horrors that affect all types of relationships. Minutes and seconds can make a difference between life and death in many cases. Thus, I cannot see how it is appropriate to say the police department would find someone else to answer a domestic violence call.
As one opponent stated, "every person has a right to act on his or her religious beliefs, but that doesn't give anyone the right to harm other people or impose his or her beliefs on others, in the name of 'religious freedom' or otherwise." I could not agree more with that statement. Which is why, when we debated the bill in committee, I drew the committee's attention to the Kansas Bill of Rights. The first line states, "All men are possessed of equal and inalienable natural rights, among which are life, liberty, and the pursuit of happiness." That means all men (and women). Not simply the ones the Kansas legislature approves of.
"Truly I tell you, whatever you did not do for one of the least of these, you did not do for me." Matthew 25:45
This year, I continue to serve on the Federal and State Affairs and Judiciary committees, and I am once again the Ranking Minority Member on the Transportation Committee. I am privileged to be your voice in the Kansas Capitol. If I can ever be of assistance to you, please feel free to contact me at 785-296-7669 or [email protected]. You can also follow the legislative session online at kslegislature.org