What do you do when there are 10 inches of snow on the ground and the wind chill is minus 12? Do you make cereal bars like your life depended on it?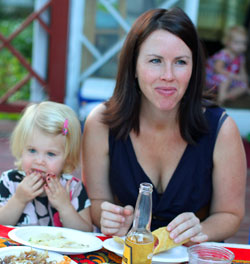 No?
Well around these parts we're up to our eyeballs in cereal bars. I thought they'd be a good Valentine's Day gift, and then I remembered how much I like them. And bonus – I found out that you can swap out marshmallow whip for marshmallows. And double bonus – they freeze well!
Note that these rice crispie bars are made with brown rice cereal. That way you can bring them to your kids' day care and instead of looking at you judgmentally, the other parents will be super impressed with how healthy you are. Super, duper healthy.
I also made granola bars, filled with everything I could ever want in a granola bar – chocolate, almonds, and dried cherries. Those are not Valentine's gifts, those were for me. Again super, duper healthy. Wink, wink.
Brown rice cereal bars
Ingredients
4 cups marshmallows (or 8 oz marshmallow whip)
3 tablespoons butter
6 cups brown rice cereal
Melt the butter, add in the marshmallows and stir until melted together. Dump in the cereal and stir it all together. Pour it all into a baking pan lined with waxed paper. Cool.
Fully Loaded Granola Bars
Adapted from Shutterbean.com
2 tablespoons butter
1/3 cup honey
 1/3 cup brown sugar
2 cups rolled oats
3/4 cup slivered almonds
1/4 cup pepitas (if you have them, I wouldn't worry about it if not)
1 cup dried cherries
1/2 cup chocolate chips
2 tablespoons wheat germ
Preheat oven to 300 degrees F. Line an 8 inch baking pan with parchment paper and set aside. In a large saucepan, melt butter with honey and brown sugar. In a large bowl mix the oats, dried fruits & nuts with the wheat germ. Pour mixture into the butter/sugar mixture and stir thoroughly.
Press the granola mixture into your prepared baking pan and bake for 30-35 minutes. Let cool and cut into bars.