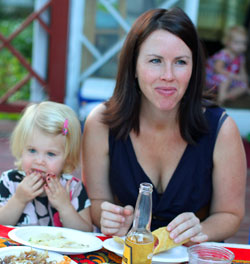 By Julia Westhoff
Ahh, the cheese plate. People, does it get any better than a cheese plate? How great is this world that we live in, that we can go to a party and eat all the cheese we want? Let's stop and think about that for a second.
In my mind, all cheese is created equal (as in, it's all equally amazingly good). But did you know there is a certain art form to the cheese plate? I researched a bit and put this new knowledge to the test for a recent party. I had some choices for the adventurous (stinky brie) and some more standard (aged cheddar). All in all we had six types of cheese and I was wishing for even more. I think people appreciated the variety and everyone had a different favorite.
I got everything from Trader Joe's, including crackers, brioche toast and some fancy quince paste that was yummy paired with the brie. It was a great time and made me feel very sophisticated.
Here's what I learned about making a cheese plate.
Include different textures and flavors. Hard, smooth, creamy, aged, salty, etc…
Non-cheese essentials include fruit (pears and grapes are nice), nuts, prosciutto and olives. Fig jam or quince paste to eat with brie is also lovely. The idea is to have things that are sweet and salty to pair with the creaminess.
Serve with large crackers and/or toast.
Label the cheese. That will save you from having to repeat yourself every two minutes.
Serve it at room temperature.