Do you make New Year's resolutions? I do, but usually forget them three weeks in. This year, however, I can already cross one off my list – I made sushi!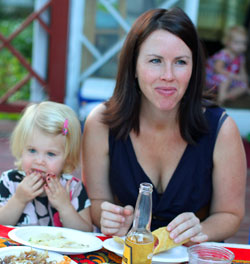 But, hey, don't be too impressed: It's ridiculously easy. I was intimidated for so long, but why? You make rice, cut up a few fillings, and roll it up in some seaweed paper. Duh.
So far I've made rolls containing salmon, cucumber, avocado, tuna and lemon. I read this article from the Denver Post, and found it to be very helpful. I won't repeat it here, but instead suggest some tips if you'd like to try it yourself.
I bought everything except for the fillings at the Oriental Supermarket at 103rd and Metcalf (back in a strip mall). This includes: sushi rice, rice vinegar, bamboo mat, seaweed paper, wasabi paste and pickled ginger. I am sure you could spend beaucoup bucks for those things somewhere else, but this place is very cheap and very good.
Whole Foods carries sushi-grade salmon and tuna.
Real wasabi paste is no joke. You should have seen Jay and me – we looked like cartoon characters with smoke coming out of our ears. But we kept going back for it.
Do it! It was so easy and it made me so happy. Here are the things I'd like to do now that I can make sushi:
a. Host a Japanese-themed dinner party with green tea ice cream for dessert.
b. Pack it in Olivia's lunch box, just like Yoko in the Rosemary Wells books (except that Olivia would totally kill me!)
c. Bring it to potlucks and see how it stacks up against turkey pinwheels.
d. Experiment with different crazy combos – let me know if you have any ideas!