By Julia Westhoff

Valentine's Day is one of my favorite times of the year. I love velvet heart-shaped chocolate boxes and homemade cards. I love asking my sweetie if he'll "be my valentine" and celebrating the anniversary of our engagement (eight years ago already!).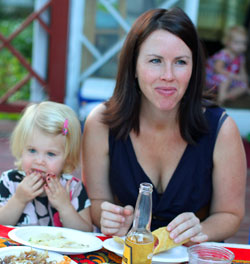 In honor of St. Valentine, I thought I'd take some time to list some local foods and restaurant spots that I absolutely love. Here they are, in no particular order:
Dolce's cinnamon rolls
The atrium at Urban Table
The gnocchi with mushrooms and short ribs at Story
Story's AMAZING happy hour
Getting samples while buying bread at Great Harvest
Peet's coffee (also at Great Harvest)
The Tavern Mojito (it's just the right amount of sweet)
The welcoming smiles we always get at Mely's
Shatto milk (coffee and root beer are my faves)
The sidewalk tables at Cafe Provence
Browsing the wine and beer selections at Rimann
What local foods and restaurants do you love?