By Julia Westhoff

I'm super excited that the Super Bowl is this weekend. Not because I care about the game (I know next to nothing about the 49ers or the Ravens), but because it's another excuse to cook and eat good food. Last year we celebrated at our friend Doug's house. He's from New York and apparently his team competed. And I think they won because there was more cheering than yelling at the end.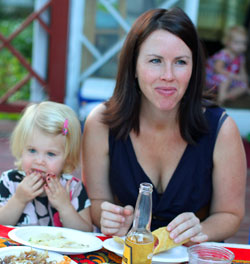 Anyway. I remember the menu quite well: peppers and sausage, rigatoni and cheesecake. Delish.
This time around I'll honor those hunky footballers from the football meccas of San Francisco and Baltimore by cooking up some mussels. I'd always shied away from mussels, figuring that they'd be out of my price range. Not so, it turns out — they're just as affordable as most of the other proteins I use. They're also incredibly easy to prepare and perfect for warming up these freezing winter nights.
3 tablespoons extra-virgin olive oil
2 shallots, chopped
4 garlic cloves, chopped
2 pounds mussels (throw out any that are closed)
1 cup dry white wine
4 tablespoons unsalted butter, cut into pieces
Salt
Crusty bread, to serve
Directions
Heat the olive oil in a large pot over medium-high heat. Add the shallots and garlic and cook until softened, about 5 minutes. Add the mussels, wine, and butter, and season well with salt. Give it a good stir, cover the pot, and cook until mussels open and are cooked through, about 10 to 15 minutes. Divide the mussels and broth into two bowls and serve with the crusty bread.