And here, without much further ado, were the five most-read stories of 2012:
I'm guessing a fair number of our readers for this story came from outside Northeast Johnson County. But hoo's to say? Hahahahahahaha! Ah… I already made that pun in the headline, didn't I? Sigh. Anyway, it's mating season yet again for these li'l guys. Listen close after sundown and you can hear the "hoo-hoo" call. We've also been hearing our friend the Eastern Screech Owl doing some active calling after dark.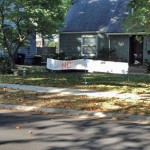 Village Drive residents who make a public statement about two neighbors convicted of dealing drugs caused quite a stir. A Johnson County judge sentenced the Turners to "shock time" in jail in September.
2001 SM East graduate Elise Berlau — now Heeran — lived in the Rockaway Beach community that was among the areas hardest hit by Superstorm Sandy in October. A group of her high school friends organized to help raise funds for the town as it tried to dig out from the devastation of the storm.
Postmaster Russell Jacobson's continued refusal to address those resident affected by his decision to install four "cluster mailboxes" in Fairway drew the Reinhardt Estates neighborhood. Prompted to install the clusterboxes after a supposed incident between a mail carrier and an aggressive dog, Jacobson eventually relented and had the clusterboxes removed.
The tragic news that beloved senior Tyler Rathbun had died after an early-morning ATV accident on a classmate's family's Miami County farm shocked the SM East community. Rathbun had just recently been given a host of honors for his performance on SM East's soccer team. A four-year starter, he holds the school record for most goals scored in a season with 22. The Miami County Sheriff's Department is still investigating the incident that led to his death.