By Julia Westhoff

What will you be doing this New Year's Eve? We're slowly adjusting to life with children, so anything we do will have to be super kid-friendly. Right now it's looking like an early dinner at Red Lobster (which will probably be insanely busy at 5 p.m. on New Year's Eve) followed by a candy-fueled living room dance party. We live it up around here!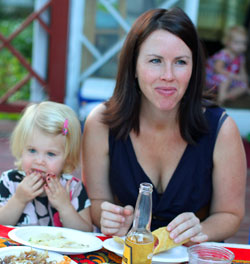 But if we were going out this New Year's like actual, adult people, we'd have plenty of amazing options. If you haven't made reservations yet, you probably want to get on that ASAP (you don't want to get stuck waiting at the Red Lobster like a loser). Here's what some of the area's restaurants have on tap:
Cafe Provence: I was particularly excited to see this prix fixe menu, which includes truffle soup, foie gras ravioli, lemongrass scallops and short ribs.
Johnny's: $10 will get you in the door and give you access to drink specials, an appetizer buffet, a deejay and giveways.
Story: Customers can choose from the standard menu or a special prix fixe option (which starts with ravioli containing lobster and caviar – are you kidding me?).
Tavern: Both Tavern locations will be hosting early dinners and late night parties, with featured menus that include Filet Mignon, lobster tail and more, as well as their standard offerings. There will be live piano music and deejays later on.
Urban Table: Offering a special four-course menu, with two or three options for each course. The seared diver scallops sound especially good.