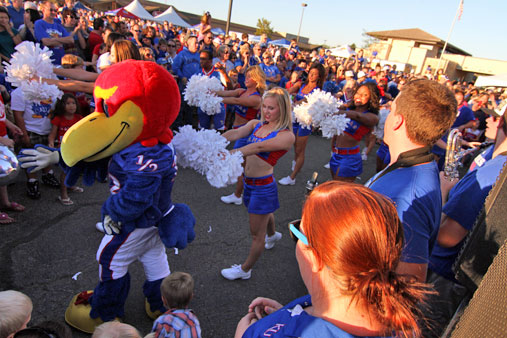 Last year, KU head basketball coach Bill Self told the assembled masses at Corinth Square's KU Kickoff that he was impressed with the way then-coach Turner Gill was preparing his team.
"They're faster, they're bigger, and they're stronger," Self told that crowd. "They're doing it the right way. The right way takes time."
A year later, Gill's time is up – and Self was ready to admit that the football program wasn't where it needed to be. At last night's rally, which attracted one of the biggest crowds in event history, Self admitted that, in the past, the athletic department was charged with getting the crowd stoked for a product on the field that wasn't strong.
"In the past the product wasn't always that good," he said. "I've seen the product this year. And it is good."
In his remarks, new head football coach Charlie Weis told the crowd the enthusiasm he'd seen from the region's fans in his NFL career over stints with the Jets and Chiefs, among others, had attracted him to the KU opening.
"What I want to know is, can we turn Memorial Stadium into Allen Fieldhouse," he said.