(*Whistling) Doo do doo, do doo dobee do dooo… AHHHH!
Oh, dear Lord, you scared me! I didn't see you come in. I guess I'm just a little skittish this morning, what with it being Halloween and all. It's so spooky out lately. I guess part of it is that we spent a couple hours scouting out the best local Halloween decorations Sunday afternoon and saw some thing we won't soon forget, including:
This household over by the State Line Shopping center gets our "Halloween Blitzkrieg" award. With five separate inflatables — most with moving parts — it was hard to miss.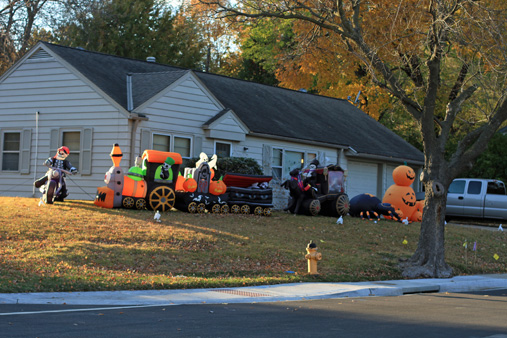 Perhaps the most unsettling "decoration" we found was one of the most understated: a pair of jeans and a white shirt streaked with blood, hanging from a tree. Creepy:
A homemade graveyard with Elvira-inspired headstone humor makes our short list as well:
But the most creative display was saw was at this Mission Road house, where a gigantic spider is wrapping up some prey: