There was plenty of end-of-summer fun around town this weekend, including the SM East football scrimmages, with the freshmen and sophomores up on the practice field…:
…and the varsity and JV squads down on the main gridiron:
Just up the hill at Harmon Park on Saturday was the annual Dog Days in PV gathering, put on by Prairie Village animal control. The event brought out pups of all shapes and sizes, from prim and proper Cavalier King Charles spaniels…:
…to punk-rock chihauhuas:
The event also featured a number of competitions — including a talent show won by Bailey, whose singing to the tune of his owner David Gaunt's harmonica wowed the judges: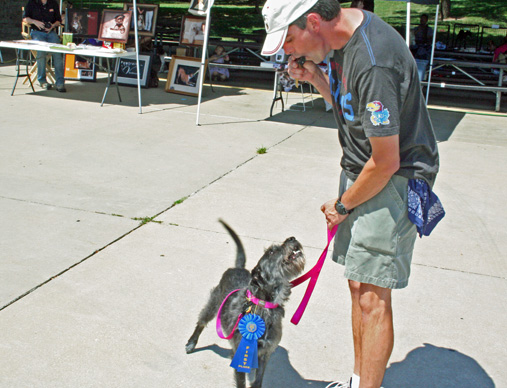 Bailey also took first prize in another competition: Most Mysterious Mutt.
"Nobody can tell what she is," said Gaunt.