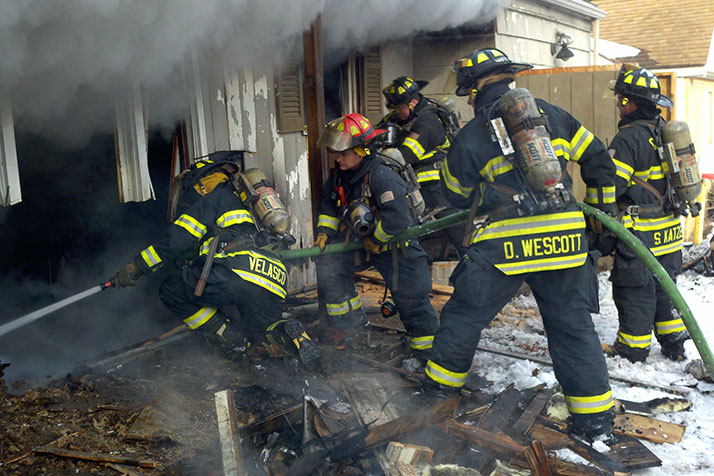 On call for our community plus a whole lot more
Consolidated Fire District No.2 (CFD2) serves the cities of Fairway, Mission, Mission Hills, Mission Woods, Prairie Village, Roeland Park, Westwood and Westwood Hills in northeast Johnson County, Kan. With the rapid growth and constant change being a major theme in the area, CFD2 works closely with city administrations, businesses, homeowners, and their other emergency response partners to make sure they provide the highest quality emergency services to the area.
CFD2
To contact their Administrative offices: 913.432.1105
For emergencies dial 911
3921 W. 63rd Street
Prairie Village, KS 66208
Website: http://www.cfd2.org/
Facebook
CFD2 answers calls that vary from freeing a child's finger from a toy fire truck to major structure fires. Every call is different and the firefighters must be prepared for each and every call with the right equipment, and the right training. Constant training is what it takes to keep the professionals at CFD2 ready to respond to your local 911 call for emergency services. When CFD2 shows up on a call they bring a "can-do attitude to adapt and overcome." Attitudes and actions like that come from years of service, training and trusting that your colleagues have your back.
With approximately 5,000 response calls a year, 75 percent of which are for emergency medical services, CFD2 must always be prepared even when called outside of their normal service area for assistance. Through agreements with other fire districts, they are never shorthanded, yet are always ready to put their expertise into action.
CFD2 not only covers fire and medical calls in the Northeast Johnson County area, but they are also a key part of a unique urban search and rescue team called Kansas Task Force 3. Comprised of CFD2, Shawnee, Olathe, KCK, Leawood, Leavenworth and Leavenworth County, the Kansas Task Force 3 trains together to respond to emergencies locally and state wide. This group falls under the leadership of the State Fire Marshal and also responds out of state if activated.
Each fire department in the metro area that participates in Kansas Task Force 3 has their specialty, and CFD2's special expertise is trench rescue. CFD2, in partnership with Olathe Fire Department, are the resources for trench rescues throughout Johnson County. Together they respond to all trench rescue calls in Johnson County, as well as calls outside of the county when activated.
Past responses have included the aftermaths of hurricane Katrina, the Greensberg tornado, the Atchison grain elevator explosion, Randolph County, Mo., flooding and the Moore, Okla., Tornado. With the unpredictable nature of emergencies, CFD2 must always be prepared to respond. CFD2 keeps 30 members of its staff trained and ready to respond to regional emergencies, and further, with a fully equipped rescue truck when the Kansas Task Force 3 is activated.
CFD2 is also very active in their home community through participation in festivals, events within the eight cities they serve, Chamber of Commerce events, as well as being a good partner in the neighborhoods around the area. CFD2 prefers to promote internally through their ranks, provides career paths for members and advancement opportunities. CFD2 believes in education for all members; currently the membership of 69 includes 20 with Bachelors degrees, 17 Associates degrees, two Masters degrees and five others currently taking college courses. Those who do not hold a college degree have specialized training in a variety of areas including Fire and Emergency Medical Services.
Fire Chief Tony Lopez, Deputy Chief Jeff Scott, Fire Marshal Todd Kerkhoff and to the rest of the fire, medical and administrative staff thank you for providing the highest level of emergency services to the area.
Come meet some of the CFD2 staff at an open house this Saturday, July 30, 2016 from 9 a.m. to noon at Station 23, 9011 Roe, Prairie Village. Donuts, fruit, and beverages will be served for free but any donations will go to Unleashed Pet Rescue.
Chamber Updates
EdgeJC Education with Lifted Logic
Join our young professionals group for coffee and a discussion with Lifted Logic founder, Adam Fichman. Discussion topics to include entrepreneurship, growing a business organically, and how to keep up with technology changes for your business. Adam is a fellow young professional and a mover and shaker in his field. You won't want to miss this opportunity to connect with him! Thursday, July 28th at 8:00 a.m. at Hampton Inn & Suite in Merriam.
Save the Date – November 19!
Save the date for the NEJC Chamber's premier event of the year – the Annual Gala on Saturday, November 19th. Celebrate the success and accomplishments of NEJC Chamber members with an elegant evening of dinner, dancing, and a silent and live auction. There are many opportunities for businesses to participate and highlight their company through a variety of sponsorships, by donating auction items, and by purchasing tables. Visit our website for more information: http://nejcchamber.com/annual-gala/
This weekly Sponsored Column is brought to you by the Northeast Johnson County Chamber of Commerce, helping small businesses grow for decades. To join our large-and-growing list of members, contact Stoney Bogan today at 913.262.2141 and find out what the Chamber can do for you! For more information, visit nejcchamber.com